Ski tour in Gegharkunik region
---
Ski touring is skiing in remote areas in unmarked or unpatrolled areas. The tour is usually off-piste and off-ski and can last more than one day. It is similar to cross-country skiing, but excludes the use of an elevator or transportation.
Ski touring combines elements of cross-country and alpine skiing. What makes it different is that the skier's heels are "free," meaning they are not tethered to the skis to allow natural gliding when crossing and climbing terrain that can range from perfectly flat to extremely steep.
Itinerary - Region Gegharkunik
This trek contains elements of both active and sightseeing tours. Early in the morning, leaving Yerevan to the starting point, we will also visit Lake Sevan. Enjoying the views of snow-white mountains and the blue mirror of Lake Sevan we will cover about 9 km with altitude differences from 2000m to 2400m above sea level. The skiing will take about 3 hours. After stopping our tour we will go back to Yerevan and visit Noravank and Khor Virap monasteries, as well Selim caravanserai, the resting place of travelers and caravans along the Silk Road. We will also visit the winemakers' degustation hall of Areni village.
Transportation service
Guide services
Excursion to Noravank and Khor Virap Monasteries, Sevan Lake
Entrance tickets
Our guide has a first aid kit
Spring water
24 hours customer service by phone
Insurance
Meal
Personal equipment
Personal medicines
Gallery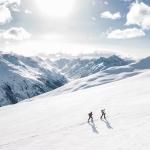 Booking Form
Ready to Get Started?