Rafting down the Debet River
---
Price From $65 for a group of 3 or more
---
Rafting is floating down mountain rivers on man-made rowing channels on inflatable boats (rafts).
Rafting is an activity known to man since time immemorial. There is evidence that hundreds of centuries BC ancient peoples traveled on rivers in canoes. With the development of civilization along the rivers rafting wood, in a variety of floating devices crossed the mountain waters of the gold prospectors and geologists.
In extreme rafting on mountain rivers, the most notable mark left an Englishman M. Jones, who laid the foundation of modern concepts of rafting in a kayak. He organized the first passes in kayaks on the Blue Nile in Africa, the Orinoco River in South America and the Dudh Kosi River in Nepal.
The rafts themselves, however, appeared during the Vietnam War, where these watercraft were used to deliver goods along the waterways to the bases of the U.S. army.
These days, rafting has become both a separate sport discipline and one of the most common tourist activities, in the commercial form of which, no previous experience is required to participate.
The main rivers for rafting in Armenia are: Dzoraget (level 6 difficulty for rafting), Debet (level 4) and Tartar in Artsakh (level 3).
We will choose Debed river in Lori region. The trip there will take about 2.5 hours. The distance from Yerevan is 172km. However, the long journey will be interrupted by visits to ancient monasteries (Haghpat, Sanahin), Lake Sevan, the resort town of Dilijan and other attractions.
The length of the rafting trip on the Debet River is 12 km and the duration is 70-90 minutes depending on the team. Difficulty level 4.
Transportation according to the program
Guide-instructor
Rafting
Lunch box
Entrance tickets for visiting historical monuments
Tea/Water
Insurance
Personal equipment
Personal medication
Don't forget to consult your guide in advance about clothing and essentials
Gallery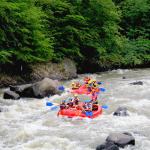 Booking Form
Ready to Get Started?